Hallelujah! Welcome to all the Family
of Bible Stories for Children.
The background that Bible Website for children opened can trace back to the time I had promised to God, at a prayer house in Paju in 1999 that I would open a Bible Website for children, for the first time in Korea. At that time, I was a new Web designer who had just graduated from university. I took the time out of my busy schedule in my work place to draw illustrations and prepare the Website. My mother split time to write the bible stories, when she was an elementary school teacher and had held prayers of districts for children, during a long time. Fortunately, God led me to see Paster Sang-yul Lee who was scheduled to work as the Website proofreader, and realize that opening a Bible Website for Children was the mission that God gave to me, thus, making me not stop doing it. Every effort and cooperation grew to bear a fruit. After a year, the Bible Website, finally, began to open, on Jul. 12, 2000, which deeply touched my heart.
With the Internet world becoming larger and larger, the bible stories for children have received a great deal of compliment and attention. I was often proposed to integrate this Bible Website. Whenever I was proposed like that, I decided to run an independent and private Website which would belong to none, based on the advice that Paster Sang-rul Lee had gave me. The reason why I decided to do so was because I cannot be assured that this Website would continue to be run, if it were integrated. After 21 years, even greater attention to Internet have led to other media, and not a few of similar websites repetitively have emerged and disappeared. It is Only the Website of Bible Stories for Children that has remained up to now.
In 2012, the English versions of the Website of Bible Stories for Children opened, under the request from users who had been dwelling in foreign countries. My relatives, Christians, and friends in the US, including my family, joined the work of translating the Bible Stores for Children on this Website. From 2016 on, *Yoido Full Gospel Chuncheon Church where Pastor Sang-yul Lee was preaching has regularly sponsored this Website. I express much gratitude, beyond words, for having born no burden about spending the cost for this Website, by myself.
In the meantime, I changed my job to become an Illustrator. I have already had the work career of 15 years. Since I had a debut as a *picture book author in charge of performing all the writing and painting works, I have found myself in a whirl of work. I would like to say thank you for God who has long been leading us. From 2019 on, I have begun to create and draw the Website illustrations, again, that I drew 22 years ago. Besides, I have been writing the Bible Stories for Children, in more novel and abundant styles, together with my mother, who retired from a job as a teacher and has been active as a *popular Bloger.
This revision of 2021 has been developed so that every user can see on PCs and smart phones. I did not hesitate to get rid of old contents.
I owe what this Website is now to attention and love from a lot of the Website Christian visitors, especially, mails of thanks from an Indian missionary church, an underground church at the mountainous region in the nation, and a Korean church in the US, which has been teaching the Korean Alphabet to Korean-American children. As they did so 21 years ago, the Bible Stories for Children would remain and express Jesus' love for children, in the future, I hope.
Lastly, the copyrights of all illustrations and writings used in this Website are reserved to the producers, and therefore, all of them cannot be used as a commercial purpose, but only as educational and gospel purpose. I ask anyone of this Website to inform this Website source (www.kibible.com, the Website of the Bible Stories for Children). Don't forget to do it, please. I expect that all Christians would keep their right conscientiousness not to take the outputs of efforts and endeavors of the creators, lightly.

for it is God who works in you to will and to act according to his good purpose. [Philippians 2:13]
It is not good to have zeal without knowledge, nor to be hasty and miss the way. [Proverbs 19:21]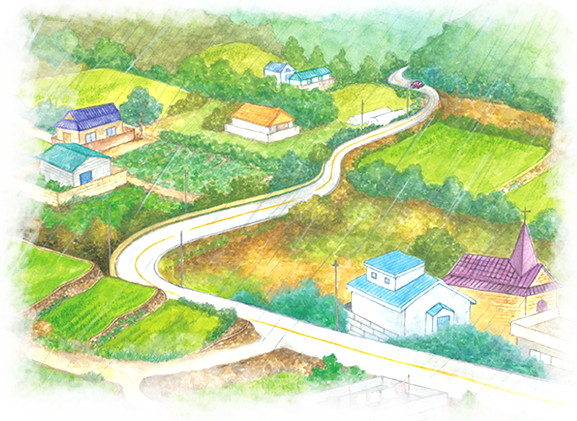 I Picked up Summer-Painted by Sooye Park
Planning promoter & Sysop

Sooye Park, Soonwoo Han
All Copyright holer of illustration

Sooye Park
Context

Boohae Kim, Sooye Park
Supervisor Reverend

Pastor, Sang-Yeol Lee
(Chun-Cheon Yeoido Full Gospel Church)
Sponsor

Chun-Cheon Yeoido Full Gospel Church
and All People Praying!
Trail behind the School/ Painted by Sooye Park / Bi Ryong-so
I Picked up Summer-Painted/ Painted by Sooye Park / Chaeknaeum
Sowon is a Figure Fairy on a Silvery Ice/ Written and Painted by Sooye Park / Kkumteo
Fly, Crested Grebe!/ Written and Painted by Sooye Park / Kkumteo